7mm Slimline kit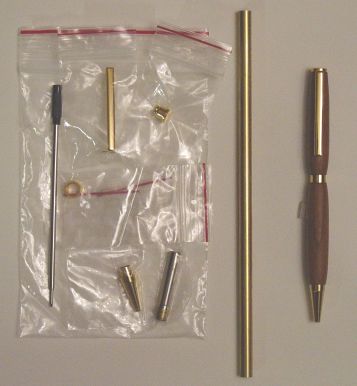 this 7mm slim, with gold clip, is equivalent to the woodcraft slim style pen #123052 or berea twist 7mm ballpoint, and uses woodcraft #06R03 bushings or berea 1A bushings
link to woodcraft instructions: http://www2.woodcraft.com/pdf/77A36.pdf
you'll notice that instead of precut brass tubes (barrel's) there is a long brass tube with this kit, you must cut your own barrel's. the bonus is, you'll now have an extra longer barrel for those other fun projects!

barrel lengths for slim are: 2 @ 2-3/32" (if making a standard size slimline pen)
---
7mm Euro style kit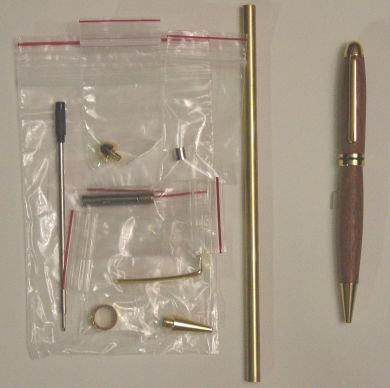 this 7mm euro is equivalent to the woodcraft european style pen kit #06S45 or berea gold top european pen, and uses woodcraft #06S62 bushings or berea 10A bushings
link to woodcraft instructions: http://www2.woodcraft.com/pdf/77B04.pdf

you'll notice that instead of precut brass tubes (barrel's) there is a long brass tube with this kit, you must cut your own barrel's. the bonus is, you'll now have an extra longer barrel for those other fun projects!

barrel lengths for euro are: 1 @ 2-3/32" & 1 @ 2-3/8"
---
10mm cigar kit, with 2 finials - use flat top or euro top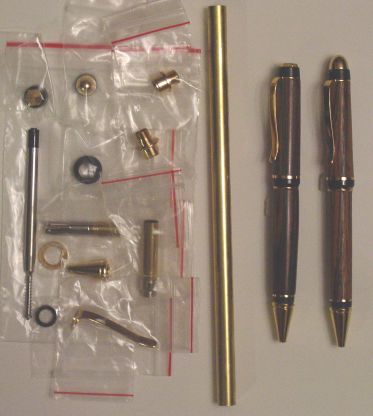 this 10mm cigar is basically equivalent to the woodcraft cigar pen #77A85 or berea cigar (fat) pen, and uses woodcraft #124858 bushings or berea 11A bushings
link to woodcraft instructions: http://www2.woodcraft.com/pdf/77A85.pdf

however, there is a slight difference between these cigar pen kits and woodcraft/berea, the transmission is a single twist design - similar to the slimline and euro twist transmission

you'll notice that instead of precut brass tubes (barrel's) there is a long brass tube with this kit, you must cut your own barrel's. the bonus is, you'll now have an extra longer barrel for those other fun projects!

rough cut barrel lengths for cigar to: 1 @ 1-29/32" & 1 @ 2-7/64"

after squaring, the final barrel lengths should be: 1 @ 1-7/8" & 1 @ 2-3/32"

the bottom barrel length is *very* critical:
too short - ink cartridge will not retract all the way in
too long - ink cartridge will not extend far enough out to use